"relax with citizens and farmers"
4-6-8 daagse fietstrips, 

- start en finish met een overnachting in trendsettend stadshotel. 
- custommade huurfietsmogelijkheden, kids, sportief, traditional etc.....
- 1, 2 of 3 farmland stops van 2 nachten bij boeren bed+breakfast,
met een keur aan streekproducten en fietsmogelijkheden voor de "rust" dag.
projectformule uit te werken met partners
Het matrix-schema is indicatief,
2016-2018 staat open voor 3 regiopartners om het aanbod uit te werken.
Via opbouwen van goede persoonlijke contacten in regios:
Haarlem - Zaanstad - Amsterdam - Hilversum.
Leiden - Den Haag - Delft - Gouda - Rotterdam - Dordrecht.
Utrecht - Culemborg - Gorinchem.
Interesse ?
vdpoll@greenheartmap.nl    of    06 20 60 90 27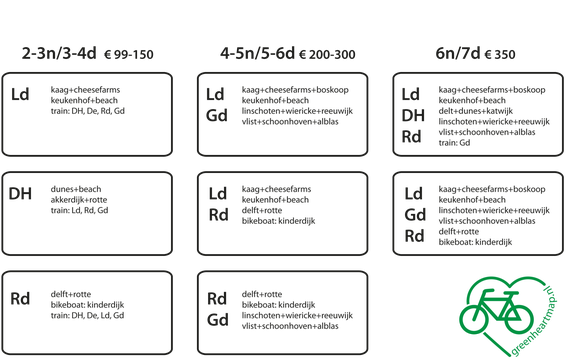 4-6-8 day bikebreaks,
- start and finish at a friendly hotel in of nearby Amsterdam, Leiden, Delft, Rotterdam, Dordrecht or Gouda. Your Greenheartbike is reserved there.
- 1, 2 or 3 stops for 2 nights each at a farmer bed+breakfast. Plenty regional food and time to discover the surroundings.
The matrix scheme is indicative, during 2016 the offer will get more specified. Are you interested? Please use the "stay/get in touch" tab.